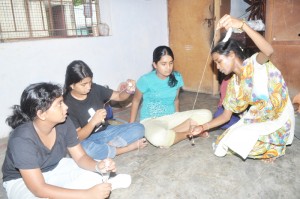 Gandhi  Peace Foundation, Alwarpet conducted a one day course on 'Gandhian Thoughts' for students. It was held on June 26.
Classes were interactive, explorative and creative. Children learnt to spin on the charkha and Takli. The picture shows children learning to spin on the Takli.
Children received a book 'The Story Of My Life' in English or 'En Vaazhkai Kadhai' in Tamil as a gift.
For details call S. Kulandaisamy, Secretary, Gandhi Peace Foundation. Phone: 99624 79005/2499 3839.