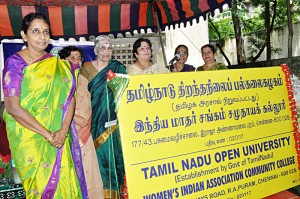 The Women's Indian Association, Chennai has opened a community college in R. A. Puram for underprivileged women.
The college was inaugurated on August 23 by Kalyani Anbuchelvan, Vice Chancellor, Tamil Nadu Open University.
The college provides one – year diploma courses in nursing and computer. Students can learn Tally, computer applications and multimedia as specialised subjects.
The college is affiliated by Tamil Nadu Open University, Chennai.
As for nursing course the students need to pay only the exam fee and there is no fee charged on the course, says N. Pandian the administrator officer.
He further added that the fee is charged less than 50% of what is charged outside.
The college functions from Monday to Friday, 10 a.m. to 4 p.m.
Experienced faculty have been appointed to teach students, says Pandian.
Students need to have finished tenth standard to take up the courses at the college. Classes begin from October.
The applications can be got from Tamil Nadu Open University, Guindy.
The college is located at 177, Greenways Road, R. A. Puram. Ph: 2493 8907.