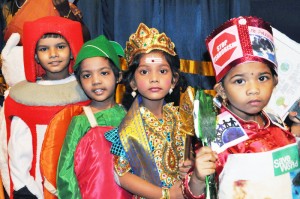 Kumara Rani's Chettinad Vidyalaya had its fancy dress competition on July 31. The competition was for K.G. and Pre. K.G. children. Meena Muthiah was the chief guest for the event.
Children took active participation in the competition. They were dress up in various characters like Spider man, Egyptian queen Cleapotra, Bharathiyar and Zoo zoo from Vodafone fame.
The theme for the competition was 'Save Trees'. Children also brought out the importance of Global Warming and the need to save water.
The school can be reached at 2493 8040.