T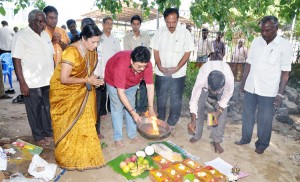 he bhoomi puja for the renovation of the MTC bus terminus in Foreshore Estate was held recently.
Mylapore MLA, S. Ve Shekher took part in it.
Shekher has set aside a sum of Rs.50 lakhs from the MLA Fund that can be used for such civic/community projects.
The funds were allotted long ago and the project was in the freezer. The MLA says that the whole terminus will be paved with concrete and cement and public toilets constructed.