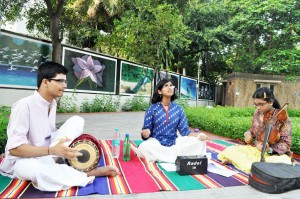 For the first time, residents of CIT Colony hosted a kutcheri in the local park on Sunday, Sept. 26. 20 people gathered at the venue to encourage vocalist Apoorva and her accompanists.
She was accompanied by Parur Ananthalakshmi on the violin and Srivatsa on the mridangam. Apoorva is an X std. student in P.S. Senior Sec. School.
The Chennai Corporation Park is on Fifth Cross Street, CIT Colony
'Music in the Park' is to be a monthly programme that will be organised on the last Sunday of every month.
This is an initiative by the residents of CIT Colony to make good use of a recently redeveloped park.
Contact Ramanathan at 9840067921 if you wish to perform at the park.