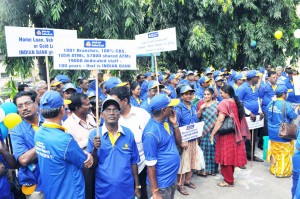 The Indian Bank's Mylapore branch is celebrating its 100th year of operation this season.
The celebration of this milestone is about to roll .
The bank was set up in the 1911.
On Oct 23, a rally was organised by the staff of the branch around the main streets of Mylapore.
The staff were dressed in blue T-shirts and sported blue caps. They carried placards announcing the banks centenary celebrations. Police officer C. Sridhar I.P.S. flagged off the rally.
This event marked the inauguration of  the year-long centenary celebrations of the branch which has been a part and parcel of the life of many Mylaporeans.
The Mylapore branch is located at 21, North Mada Street, Mylapore.
Ph: 2464 1420/ 2464 0289/ 2464 2068.
<< If you have stories to share of your association with this branch, please mail them to – mytimesedit@gmail.com >>