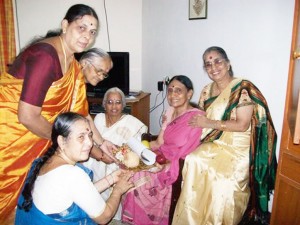 Reported by Raji Muthukrishnan >>>>>>>>>>>
A group of students at Gangamritham, based in Luz greeted their teacher on Vijayadasasmi Day.
Our guru, Ganga Mani is a sincere, devoted and patient teacher of carnatic vocal.
Under her guidance we have performed in public platforms like temples. Last year we gave a performance at the Indian Fine Arts Academy during the 'season'.
The speciality of this school is that the average age of its students is around 60.