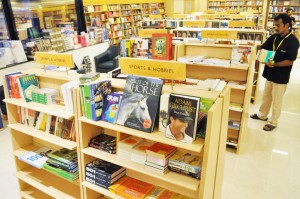 The Mylapore neighbourhood has a new bookstore at Alwarpet.
Crossword has opened a branch in TTK Road and had its soft launch on the eve of Deepavali ( the store is near the Alwarpet traffic signal junction).
The store is set in a sprawling 9000 sq.ft. and is set in two floors.
The store has a wide range of books on different subjects like investment, finance, novels, sports, hobbies, biographies, cookery and food.
If you have been to Crossword stores across the country, you would have come across the 'Crossword Reccommends' labels in all the sections.
Books recommended by the Crossword boss or his team or those that have been creating a buzz in the publishing world.
G. Stanley Jebakumar, store manager says that shoppers who choose to buy books kept in this section have the option to return them and get back the money if they did not like the book.
You can also shop here for stationery, movie DVDs and music CDs and DVDs, toys and gifts.
"We have toys for infants, kids and teens," says Jebakumar.
There is also a section for electronic hardware and lifestyle products – video games, video game consoles, headphones, phone pouches and MP3 players.
The store has a small lounge for bookworms and will soon have a Coffee Day and Konica photo lab inside its premises, says Stanley.
It is open Monday to Sunday from 10 a.m. to 9 p.m. Crossword is located at 72, TTK Road, Alwarpet. Ph: 4203 1705