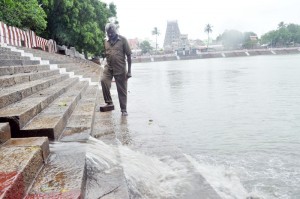 A 13 year old boy drowned in the Sri Kapali Temple tank on Monday, November 15 morning.
The Fire and Rescue Services fished out his body after a search of two hours.
Police sources says that the still-unidentified boy was seen swimming towards the central mantap in the tank in the morning. He seemed to have drowned while swimming. The boy's body was handed over to the Royapettah Govt. Hospital
The temple executive officer R. Selvaraj says that there will be stricter restrictions on entry to the temple tank.
He said the tank will be locked throughout the day and night and devotees who wish to use the premises for their rituals need to get the permit ticket at the ticket-selling counter in the temple campus.
An extra watchman and two women will be employed to keep an eye on activity at the tank.
Photo used in this report is a filed picture.