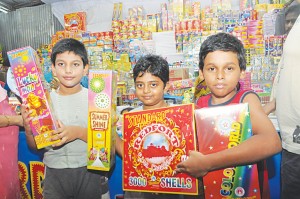 The Diwali mood has set in and many shops in the area have started selling crackers and special sweets as the festival draws near.
Shoppers are heading towards shops like TUCS to buy crackers. Mylaporean caterers have also doubled up to take orders for special sweets this Deepavali.
If you are looking for some fancy crackers then check out the Sony cracker shop located at P.S. Sivasamy Salai in Mylapore.
You can also shop at TUCS, 2nd Main Road, R.A. Puram and Co-operative cracker shop located at St. Mary's Road.
Seen in the photo are friends Nishanth, Madhav and Pravin with the fire crackers they brought at a TUCS store in R.A. Puram (top left)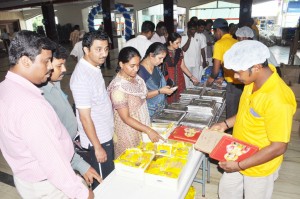 On the eve of Deepavali, Sri Krishna Sweets has hired the AVM Rajeshwari Mahal wedding hall on Dr. Radhakrishnan Salai and set up a row of counters to sell sweets, savories, snacks and food items.
The sale is open 24 hours and will go on till November 5, 8 a.m.
The second photo shows a view of the stalls arranged by Sri Krishna Sweets at the AVM Rajeshwari Mahal, Dr. R.K. Salai.
<<<< You are welcome to share with us photos of your Diwali celebration, mail them to mytimesedit@gmail.com>>>>