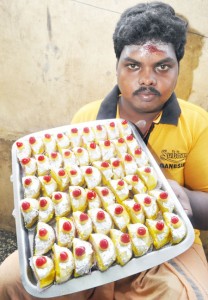 Many Mylaporean caterers are preparing to take orders for special sweets for Deepavali.
These operators are busy handling orders at social functions and catering meals but at this time of the year, they also make a variety of sweets and savouries as there is a demand for these from clients. All of them take orders.
Here are a few caterers you may want to check out.
At Sri Annai Saradambal Catering, run by R. Kannan, they have begun making jangiris, laddus, badhushas and a special mixture. These are prices at Rs.200 per kilo onwards. The caterers can be contacted at 94453 44367/ 94454 36820.
You can order laddus, badhushas, Mysorepak and special mixture, wheat halwas and Bengali sweets at Subham Ganesan Foods.
This veteran caterer who has a shop on St. Mary's Road promises that the special mixture is done the traditional way with lots of dry fruits and nuts is always a hit with his customers.
Ganesan says prices of sweets start at Rs.220. Sweets can be bought in small quantities also. To place an order call 24616007 / 24933656.
Suriya Sweets based in R. A. Puram is also known for sweets and savouries made the way grandma did them. Orders have already begun and the managers say it is better to book in advance. Call Suriya at 2434 8937.
Raju Iyer Catering in Mylapore is also offering various sweets like laddu, jangiri, Mysorepak and special mixtures. Prices start at Rs.250 onwards. This caterer can be reached at 94444 34269.