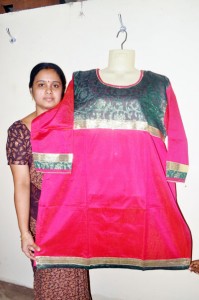 For women whose clothes are XXL in size, here is a new destination.
Neelas Fashions has opened a new shop called Aishvitha XL World in Raja Annamalaipuram.
The store has a wide range of readymade chudidars and kurta tops in sizes from 40 to 54.
A.D. Purushotham and his wife P. Amudha who have been veterans in the women's clothes business have launched this venture to meet growing needs of big-sized women.
"This idea came to us after people came looking for large size chudidars and kurthas," says Purushotham. "There is a big demand for such clothes".
The new store, which is located on the street that runs opposite Sangeetha Restaurant in R. A. Puram provides a wide range of cotton, fancy cotton and silk cotton chudidars and materials.
Alterations and in-house tailoring and embroidery are also undertaken here.
The readymade chudidars are priced at Rs.900 onwards and materials are priced at Rs.500 onwards.
Short and long kurtis are priced between Rs.500 and Rs.1000.
The shop is open Monday to Saturday from 9.30 a.m. to 8.30 p.m.
It is located at 7/3, 2nd Cross Street R. A. Puram. Ph: 98847 29615 / 98847 29657.