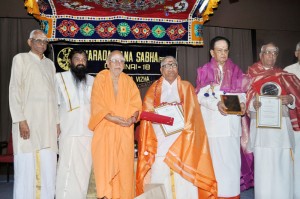 The music festival at Narada Gana Sabha was inaugurated yesterday, December 15.
Mridangam artist Vellor G. Ramabadran was conferred with the title of 'Nadhabrahmam', vocalist Seerkazhi R. Jayaraman was given the Senior Musician Award and thavil vidwan Thirukarugavoor Dakshinamuthry Pillai was honoured with the 'Tirunelveli Subramania Iyer award.'
Swami Nityananda Giri of the Gnanananda Niketan, Tapovanam conferred the titles on the three musicians.
The photo shows the three vidwans posing with their awards.