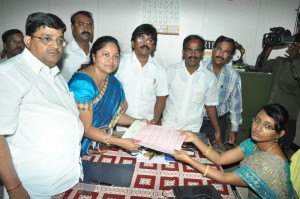 Jayanthi Thangabalu of the Congress (I) and Rajalakshmi of the AIADMK filed their nominations at the Mylapore taluk office this morning.
The papers were filed with the Returning Officer of this constituency. This office is on Greenways Road, near the MRTS station
A BSP candidate has also filed his papers.
Photo shows AIADMK candidate Rajalakshmi filing her papers with the RO. On her left is Dr. Maitreyan, AIADMK MP.
As of now it appears that the contest will be between two women who are little known to residents here.
There have been some protests by supporters of Congressman Karate Thiagarajan who had sought this seat. His men said that the TNCC(I) president K V Thangabalu has indulged in nepotism and managed to get his wife the Mylapore ticket.
Sitting MLA, S. Ve Shekher who had also applied ( he recently joined the Congress (I) after remaining 'unattached' ) said he was disappointed with the selection.
<< Follow more detailed coverage at www.mylaporevotes.wordpress.com