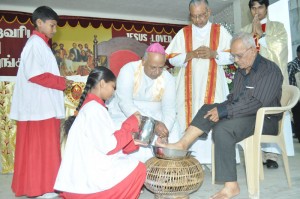 Holy Week is observed at all churches from April 17.
The Week commemorates the events that led to the suffering and death of Jesus and is the final leg of the 40 days of Lent.
On April 17, Palm Sunday was observed. Processions of people holding blessed palms were held in many church campuses.
On April 21, Maundy Thursday was celebrated. At a special Holy Mass held at the National Shrine of St.Thomas Archbishop of Madras – Mylapore Rev Dr. A. M. Chinnappa (seen in the photo) washed the feet of twelve elders from this parish.
This day commemorates the Last Supper of Jesus Christ with his disciples before his death.
The other important day of the Holy Week is Good Friday (April 22).
Blood donation camps will be held on April 22 at San Thome Community Hall, opp. National Shrine of St. Thomas, at Our Lady of Guidance Church, R. A. Puram and  at Our Lady of Light Shrine, Luz from 9 a.m. to 12.30 p.m.
Forms for eye, organ and full body donation will be issued at the St. Thomas Cathedral premises. Those who wish to register can make use of this opportunity. This is organised by the local wing of St. Vincent de Paul Society.
The Week ends with Easter Sunday ( April 24) which celebrates the resurrection of Jesus.