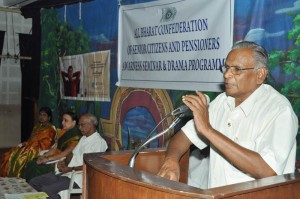 All Bharat Confederation of senior citizens and pensioner had organised an awareness seminar for Pensioners and senior citizens on April 17 at R. K. Swamy auditorium, Sir Sivaswamy Kalalaya Senior Sec. School, Mylapore.
Raju (retires D.R.O.) President, TN. Retd. Rev. Officials Association presided.
Also present were P. M. Rajagopalan, sec. general, J. Kalai Vannan, General Sec., S. Maya Kathan and N. Rajendran, President.
The seminar focused on pensioner's rights, documents required and entitlement of pension. Other related issues can also be raised during the seminar.
A very small number of senior citizens were present on the occasion.
A play titled 'Kannula kasa katappa' after was held after the seminar.
For more details call 2480 6005, 98419 34310.