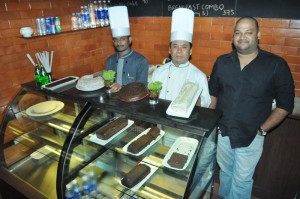 The inner streets of Alwarpet and Abhiramapuram are making space for lifestyle nooks.
Nooks for clothes, accessories and foodstuff have been opening here the past year.
Ashvita Bistro is the latest in business. The restaurant has opened on Bawa Road, Alwarpet.
This is the second business of Ashvita. The first one is located in a lane off Dr. Radhakrishnan Salai.
The Bistro is set inside the premises of a 1960s Madras-styled house and makes use of the interior as well as the garden space.  You can choose to sit inside an air-conditioned room or out under a canopy or a tree.
This business is managed by Ashvin Rajagopalan who first launched a art gallery and later, a restaurant at the first location.
The restaurant serves Mediterranean, Italian and Thai cuisine food and Ashvin Rajagopalan,a  foodie himself calls himself the chef.
The food is not fancy and the ingredients are sourced from the local markets, says Ashvin and adds that certain ingredients like the sauces are made in house, he says.
This place is ideal for dine in and take away, he adds. A place to unwind too.  This place will expand in course of time.
There will be a retail outlet, art and culture centre, a photography studio and a resource centre inside the house.
The art and cultural centre allows an artist to reside at Ashvita Bistro and engage in creative pursuits. The photography studio is taken over by Yuvaraj Vivek, an artist, architect and photographer.
The resource centre is a library of sorts. But readers will not be able take the books out, he says.
Ashvita Bistro is located at 11, Bawa Road, Alwarpet. ( off C. P. Ramaswamy Rd, TTK Road). Ph: 4203 1982.
By Mariayn Jennifer