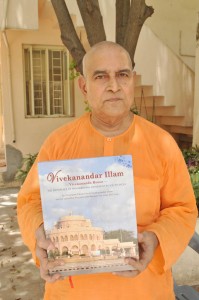 Sri Ramakrishna Math, Mylapore has released two books and a DVD at Tattvaloka Auditorium on June 26.
The book titled 'Vivekanandar Illam' focuses on the history of the birthplace of Ramakrishna movement in South India. This book is researched and edited by Swami Atmashraddhananda. It is priced at Rs.200.
Another book titled Vettrikku Vitthidum Aasiriyarkale is a collection of 71 Tamil articles. This book was compiled by Swami Vimurtananda. This book is priced at Rs.125.  The DVD titled 'Vivekananda on Himself' was scripted and directed by Karthik Saragur, MP.
These were released by Srimat Swami Gautamanandaji Maharaj.
The guests for the release function were N. Vittal, former Chief Vigilance Commissioner, V. Ramasubramanian, Madras High Court judge and Vasanth, film director.
Both the books and the DVD can be purchased from the book stall located inside the Math's premises. Seen in the picture is Swami Gautamananda holding the book that was released.