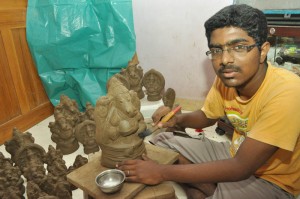 The potter's zone in Veeraperumal Koil Street, Mylapore has come alive. This area lies off Royapettah High Road in Luz.
Traditional potters here are busy crafting images of Lord Ganesh as Vinayakar Chathurthi is to be celebrated on September 1.
Images, both small and large are made here. One can also place orders, says Babu a potter here.
D. Rooban helps his family during this season. He is a 15-year-old boy and is studying std. 10th.
"This is our family business and I help in making these images," says Rooban. He is a resident of Veeraperumal Koil Street.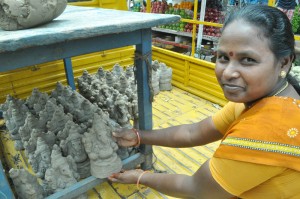 The images made here are sold at anywhere between Rs.15 and Rs.300 depending on the size and craftwork.
On Tuesday, at South Mada Street, Mylapore newly made images of Lord Ganesh were unloaded on the pavement.
A hawker at East Mada Street sells the traditional umbrella for the images. You can buy the small ones for Rs.10 while the larger ones are priced at Rs.20.
Other places in this neighbourhood where you can buy earthen images are South and North Mada Street, Bazaar Road, Apparswamy Koil Street, R. H. Road and Mandaveli Market.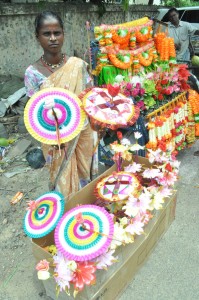 More images will be unloaded once this fest is over; the dolls for the Navaratri festival.