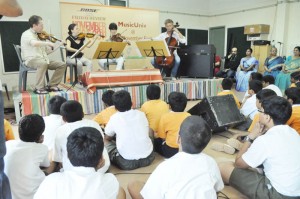 When Class 7 students of Vidya Mandir school in Luz came face to face with four classical musicians from Germany at a hall on their campus this past week, the interaction took on an interesting turn.
Minguet Quartet is a string quartet from Germany and it was here in the city to perform classical music at The Hindu's November Fest 2011 at The Music Academy. And to get younger people closer to the arts, the Fest hosts arranged for the campus interaction.
Anil Srinivasan, pianist and managing director of Music Univ led the session here.
This musicians – Ulrich Isfort, Annette Reisinger and Aroa Sorin on the violin and Mathias Diener on the cello – set the mood by playing a few pieces – compositions of Mozart, Brahms and Rihm.
Anil then set the ball rolling.
Sashank said that having the musicians on campus was a good idea. " I have not had the opportunity to listen to such music before," he said.
Rohan echoed Sashank's thoughts.  "Listening to this form of music and to a quartet was unusual," he said.
Satvika asked the musicians if they would have some imagery or themes in mind when they chose to play a piece. Violinist Aroa said that they would imagine the story behind the song and the situation in which it was written.
Three Vidya Mandir students who learn classical Indian music demonstrated how they handle the violin when they learn and perform.
Aroa explained that the material from which the strings are made has some say in the way they are handled.
Violinist Ulrich Isfort helped the students identify the difference in the major and minor keys when playing a piece.
When the session got over, there was a buzz in the hall. Clearly, the interaction had provided a different experience to the youngsters. The event was co-ordinated by Music Univ.