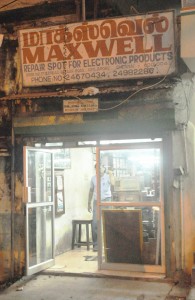 This Saturday, a little shop on the busy Bazaar Road that runs off Kutchery Road, Mylapore celebrated a milestone.
Maxwell Electronics will be 60 years old and it has been a little business that has served the Mylapore neighbourhood with pride.
Many people would wonder why 'Maxwell'?
This great scientist/physicist passed away on November 5 1879 and 'Maxwell Radio Services' was born on the same date – 5th November 1951.
The founder of this enterprise was K. A. Kuppuswamy. He had a passion for electronics and started repairing radio sets once he came back from office.
What started as a hobby drove him to establish a small concern along with one of his friends in the name and style of 'The National Electronics'.
As things did not go on expected lines, it paved the way for 'Maxwell Radio Services' in the same area.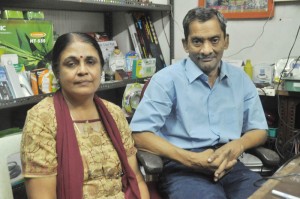 Initially, Kuppuswamy started assembling valve radios and amplifiers using kits -'Acme' and 'Empire', says his daughter-in-law Veni.
Simultaneously, he started repairing radio sets. He was considered a specialist in repairing Phillips Radiograms.
He was renowned for repairing all foreign products such as Phillips, Murphy, National Ekco, Bush, Normende and also RCA (Radio Corporation of America) sets.
Subsequently, when Indian products such as HMV (His Masters Voice) and other record players came into the market, he became proficient in those too.
Fortunately for him, one of his sons, K. Ravindran developed a keen interest in the same field and he started helping out his father as early as in 1961 when he was barely 12 years old!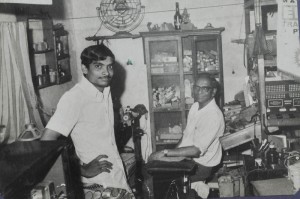 After finishing his course, he joined NELCO (a TATA concern) and after gaining sufficient expertise, quit his job and devoted all his time to the development of this concern (photo on left is Kuppusamy and his son at the old shop).
Says Ravindran, "'Once we started repairing all kinds of electronic items and not just radios we changed the name to Maxwell Electronics."
Veni says the business has survived the stiff competition all around.  "We gained the confidence and trust of our clients," says Veni.
Many young men who worked at Maxwell have gone on to set up their own services.
At the shop, Rajesh, who has been with the Ravindrans for over two decades is now the man behind 'Maxwell'.
This weekend, when the Maxwell family and its well wishers gather together to celebrate 60 years of a simple but popular shop, Veni will has a unique gift for her husband – an album of photos, old and new and a bio-sketch of the shop.
The shop is at 17, Bazaar Road, Mylapore. Phone:24670434
<< HAVE AN ANECDOTE TO SHARE? If you have had an experience with Maxwell and wish to share it, mail your note to this newspaper >>>