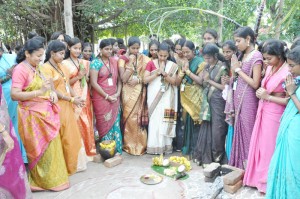 Pongal was celebrated in the traditional way in the neighbourhood. The four-day festival was celebrated by both young and old alike.
The students of MGR Janaki College had a full day celebration at their campus. Apart from the cultural events the student made pongal in earthen pots and offered it to the sun god.
Pongal, sugarcane and snacks were distributed to all the students.
The girls invited a palmist to the campus and used this opportunity to have a peek into their future. Special mehandi counters were also set up.
Elsewhere, the children at Kuttigramini Street, R. A. Puram observed bhogi by burning old stuff. The sight looked like a camp fire. Perhaps, it was a fun exercise though the state agencies were kene to encourage people not to pollute the environment.
The market spaces on South Mada Street alongside the tank of Sri Kapali Temple were packed with hawkers selling sugarcane, turmeric and bananas.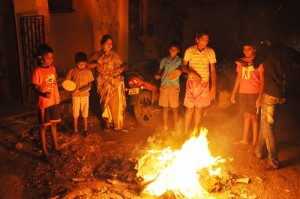 On Mattu Pongal, the cattle at Aandi Maniyam Gardens, Mandaveli were decorated with ribbons and ballons.
Similar Pongal celebrations were held at Bamboola playschool. The children dressed in traditional attire joining in making pongal in the open.
At UCO Bank, Mylapore the staff had decorated the premises and set up an artificial pongal pot.
And at Rasi Silks, a giant pongal pot greeted shoppers at the entrance.
It seemed then as if Pongal celebrations were gaining attention even in a metro neighbourhood.