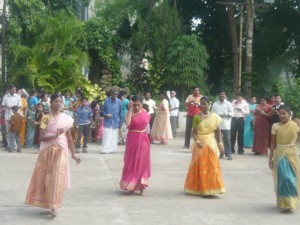 If you passed by a neighbourhood church at Pongal festival-time you may have wondered what the fun and festivities were all about inside a Christian place of worship.
If you had ventured into this campus you would have had to sidestep colourful rangolis or be invited to a game of the uri-adi.
Churches today are celebrating all Indian festivals. And the scene was no different in many churches in the Mylapore zone.
A full-fledged pongal celebration was held at Our Lady of Visitation Church on St. Mary's Road. This is the campus with a heritage tag – a place where saint Thomas is said to  have rested and met the community here on his travels between San Thome and Chinna Malai (Little Mount, Saidapet).
The celebration started at 7 a.m. with women sitting beside earth pots to cook pongal. At the Holy Mass that followed, the music swung between filmy and folksy music as the musicians roused the congregation. Girls offered arathi during Mass.
The altar and windows of the church were decorated with sugarcane.
The congregation was served pongal for breakfast. Several traditional games like kolam design, uri aadi and patti manram were held for members of the congregation.
"We encouraged our people to come dressed in traditional attire", says Fr. Clement, parish priest.
A large pandal was set up in front of the church and all the contests and cultural events were held under it.
Fr. Clement says that residents of local colonies were invited to come inside the church campus and participate in the events.
At the Shrine of Our Lady of Light, Luz a grand pongal Mass was held. People were offered pongal and sungarcane after the religious service.
A large rangoli was designed at the entrance of the church.
The congregation at Our Lady of Guidance Church in Mandavelipakkam came together for a rangoli contest on Pongal day.
"We also had the uri aadi contest and it was fun," says Fr. Ambrose, parish priest of this church.
At the National Shrine of St. Thomas, San Thome the church was decorated with sugarcane and earthen pots.
Volunteers dressed in traditional attire distributed pongal to the congregation.
A special sports meet was organised among the pious associations of this congregation.
The colour and celebration of Pongal was not noticed at the churches that fall under the CSI ( Church of South India). Pastors of CSI St. Thomas English Church and CSI St. Thomas Tamil Church said that the Sunday services were held as they normally do.
" We did not organise any Pongal event at all," said pastor Devaputhiran of St. Thomas English Church.