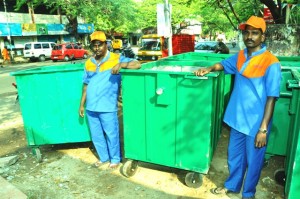 The councillors of this zone have proposed to erect platforms and metal containers in all Mylapore colonies. This decision was taken at their February zonal meet.
These utililities will come up in order to place the large waste bins of Ramky at various points in this neighbourhood.  These compactor bins are 'grouped' bins, says S. D. Venkatesh, GM, Operations. Instead of placing the small bins on main roads there will be a group of bins with lids.
These will be inside the steel sections. The garbage collected in door-to-door and street sweeping will be dumped into these bins. The waste will be removed from these bins by the collection lorries. Depending on the space availability the number of bins will be allotted to colonies,  he added.
The process of building the ramps to place these bins will begin this month, he says.  Each ward is been assigned nearly Rs.10 lakhs for the making of the stands and the containers.
<< Are you keeping a tab on the new format of garbage clearance? Report your observations to – mytimesedit@gmail.com >>