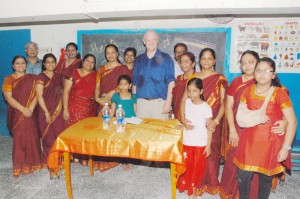 The students of Sargam choir for children and Bank of Baroda's Akshayam staff choir had gathered at M.P. Anandh Matric. H. S. School in C I T Colony, Mylapore, to interact with Paul Peabody.
Paul Peabody was the composer of the 'Titanic' movie theme song. He has also played alongside singers Madonna and Michael Jackson.
During this interaction Paul played the Titanic's theme piece in his violin.
He also spoke on the meaning of the choral piece – "varungal varungal serndhu paduvom" – rendered by the kids and he played the piece in the violin. The audience broke into thunderous applause.
Some of the children also got an opportunity to play on his violin.
The students of both the choirs sang a few songs.