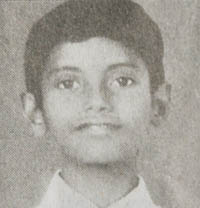 Dinesh, a 11 year old boy from R. A. Puram went missing on May 2.Now, this case has taken on a different turn.
Police working on the case have nabbed two people of a gang who claim they tried to make some quick money by misusing the contact number given by the boy's parents and posing as kidnappers.
The boy's parents Elumalai and Punitha had  complained at the Abhiramapuram local police station which is located on Bheemana Street. They also put out adverts and posters seeking help. These adverts carried the phone number of the boy's family.
On May 10, the boy's parents who are poor people received a call demanding a ransom of Rs.10 lakhs.
After bargaining, the caller reduced the ransom to Rs.5 lakhs and finally to Rs.50,000.
The caller asked Elumalai to bring the money to a bus stand in Vellore on Monday. Elumalai went to the spot with a team of police.
Four persons came to the spot  to collect the ransom. The police caught two of them, while the others managed to escape.
The detained men claimed that they did not kidnap the boy but had read the advertisement in a newspaper and planned to extract money from the boy's parents. Police are porbing further.
Dinesh is a resident of 11, Govindaswami Nagar, Elango Street, R. A. Puram.
Residents who may have any leads on the missing boy may call 98419 34077.