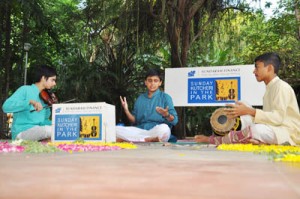 Thirteen year old Arjun Subramanian, a class VIII student from California presented a mikeless vocal kutcheri on morning of August 5.
This was held at the chess square of the Nageswara Rao Park in Mylapore, as part of the monthly 'Sunday Kutcheri in the Park' organised by Sundaram Finance.
Arjun was accompanied by Tippirajapuram Hari on the mridangam, and Sriram Sridhar on the violin.