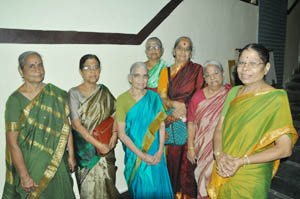 The Children's Garden School Society celebrated its Platinum Jubliee on September 6 and 7.
On September 6, a dance drama on Sri Andal was performed by students of class 1 to 12.
On the same day prizes were given to toppers of 10th and 12th Std. students.
On September 7,  the event took place in The Music Academy.
The students lined up outside the auditorium to welcome the chief guests. R. Seshasayee, Executive Vice Chairman of Ashok Leyland Ltd. was the chief guest. Justice V. Ramasubramanian, Judge, High Court, Madras presided over the function.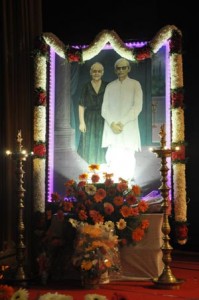 The chief guest and members of the Society, alumni and students of the school kept saplings on the stage one by one.
Seshasayee and Ramasubramanian released the souvenir.
A slide show on the school from 1937 to 2012 was presented.
A website http://www.childrensgardenindia.org/ was also released.
"The website will be a connecting point for alumni to share their ideas on various aspects relating to school. It will be updated soon. We are institutionalising alumni body of school", said R. Hariharan Ramani an alumnus of 1988 batch.
Seshasayee in his speech said that he is an alumnus of the school and wished centenary success to this institution.
V. Chandrasekar of the alumni association gave a presentation explaining the ways to reach out to 'old students' and involving them to develop the school.
Alumni and vocal musicians, Shanmukha Priya (1989 batch) and Hari Priya (1990 batch), presented a vocal concert.
Hari Priya said "We loved to be here. Nalini akka, a teacher here arranged for our first vocal performance."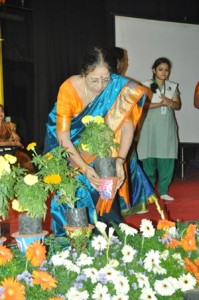 Punya Srinivas gave a veena concert.
Her father Adikesavan said "From crèche to 8th std she studied in this school. Nalini teacher encouraged her. She identified Punya's talent. After 8th she took music as her profession."
Lunch was arranged in the school for the alumni.
"I had the opportunity to be with Ellen Sharma before she passed away. I was 19 years old then. She has inspired me to be who I am today", says B. Mayadevi.
She belongs to the 1974 batch and currently Head Mistress in a Government School in Chennai.
"The teachers controlled us by their affection and this made us shape into disciplined personalities", says Janaki Ramani of 1965 batch and currently, a Statutory Consultant.
She stayed in the school hostel and later served as hostel matron.
"It is the 75th year of the school and I am proud to be part of this. I am proud to say that our school has been receiving the Republic Day Parade award for the last 17 years" says Bhagyashree. TS, a classical dancer and the games captain of the school now.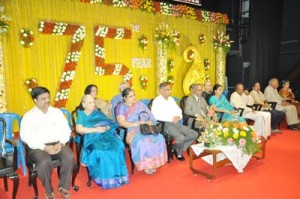 "The value system and culture followed in the school is excellent. When I look back I can say that my children who are studying in a different school now, are not receiving the value system and culture that we used to have" says Vijaysudha, 46 years old, alumnus of the school. She is one of the Directors of a construction company.
"My wife and my elder daughter are an alumni of this school. My younger daughter is also studying here. My wife is a teacher here and her 9 other sisters also studied here." says Ekambaram.
The school can be reached at 2847 3989.