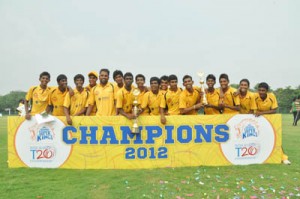 The inaugural Junior Super Kings inter-school T20 Championship has been won by San Thome School's team. On a grey afternoon on September 29, put into bat, its boys scored 134 runs for 7 wickets in 20 overs.
It was a score good enough to make their rival, down the road, St. Bede's stare at and then fail go past.
In the end it was an easy win for San Thome at the match played the the India Cements-Guru Nanak College grounds in Velachery.
These two schools from San Thome are great rivals at school level and here was one more battle to face.
St. Bede's won the toss and decided to bowl. San Thome scored at a steady pace. S. T. Natrajan scored 40 runs  in 37 balls which included 4 fours. R. Kamalakannan scored 30 runs in 14 balls including 2 fours and 2 sixes.
St. Bedes scored a mere 92 runs for the loss of 9 wickets in 20 overs.
San Thome bowlers to shine on a day when mild, steady rain in the morning kept everybody guessing – M. Sanjay took 3 wickets giving away 7 runs and Vishal Vaidya took 3 wickets for 19 runs.
From St. Bedes, M. Shahrukh Khan scored 27 runs in 30 balls.
The chief guest for the event was Krishnamachari Srikanth, Chairman of selectors, BCCI.