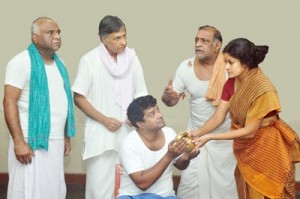 If you are a film and theatre buff you will recall Komal Swaminathan's hard-hitting ' Thaneer Thaneer'. The play was a success as was the film which was made by K. Balachander. Now, veteran theatre actor and voice artiste P C Ramakrishna has chosen the English translation of Komal's play, called ' Water' and directed it as an English play.
'Water' opens this week at Museum Theatre, Egmore from Nov.30 onwards under the banner of the legendary Madras Players.
Ramakrishna, a resident of Venus Colony, Alwarpet says this is his first directorial venture and is excited about the play.
He says he sat riveted when he watched 'Thaneer Thaneer', the Tamil play when it was staged at a Mylapore hall by a local sabha and went on to chat with the late Komal about it.
"Those images and dialogues stayed with me," Ramakrishna said before he began yet another rehearsal a few days ago. He says he has stayed with Shankar's English translation but has shortened the play to about 80 minutes.
This play is ticketed and tickets are available at the venue. But you can also call 93819 11977 for reservations.