Thousands of people took part in the Karthigai Deepam celebrations at Sri Kapaleeswarar Temple, Mylapore on Wednesday evening.
The celebrations started at dusk and ended with a processions of the pancha murtis through the mada veedhis later in the night.
It was indeed a solemn and colorful fest.
Srikanth and his volunteers packed the top rung of steps inside the temple tank with lit lamps by 6 pm. It was a herculean task but the tank looked wonderful after dusk.
The main rituals began in the sannidhi at the temple. Aradhana began there. Priests carried the flame and lit the lamps at all the sannidhis in this campus.
The pancha murtigal were placed at the navaratri mantap and the rituals were conducted there in front of a huge number of people.
Priests then offered the flame at the main gopuram.
The murtis were taken out to the 16-pillar mantapam in Sannidhi Square in the eastern part of the temple zone.
The sokka-panai was lit up – earlier kids had dropped off crackers into this panai.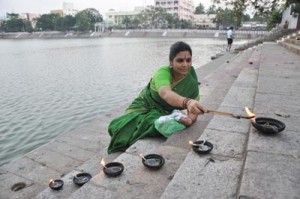 The fireworks and fire, opposite the space where Rasi Silks store stands set off some fun among the kids here.
Then began the procession through the mada veedhis.
Photographer R Saravanan shot all these pictures. You too can share your photos of any key Mylapore event.