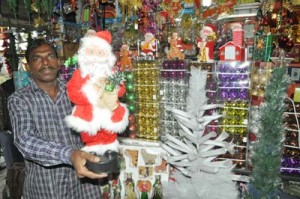 Christmas will be celebrated next week and the Christian community have started their preparation for Christmas. This is the time to shop for clothes, gifts, decorative and goodies.
Shops in the Mylapore neighbourhood are preparing to receive its customers.
The store inside the San Thome Basilica has already started selling decorations, crib sets, Christmas tree, electrical lights and greeting cards.
The shops located in front of Mylapore MRTS are also started selling a variety of decorative (photo on left).
Christmas tree with lights is the highlight this year, says a shopkeeper here.
This tree is made of optical fibre and has inbuilt lights in them. It is sold at a very reduced prize, he says.
Shops here are open till 10 p.m. in the night.
Many bakers have also started preparing for their orders. Rich plum cake and homemade chocolates are on the menu.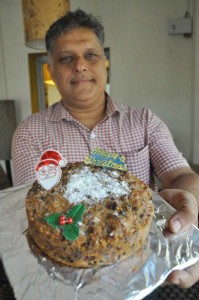 The Crust Bakery located at Bheemana Garden Street, Alwarpet is selling rich plum cakes, puddings and almond cakes. Ph: 2467 0298 (photo on left).
Padmashri Foods at CIT Colony have started taking orders. Apart from rich plum cakes, home made chocolates they also make egg-less cakes. Call: 2499 7567, 2499 5701.
Nilgiris on C. P. Ramaswamy Road, Alwarpet sells kul – kuls and plum cakes. The sugar coated kul kuls are priced from Rs.22 onwards.
Prior books also undertaken. Ph: 4212 8357. The R. K. Salai branch can be reached at Ph: 2811 3755.
Hot Breads located at Oliver Road and Mada Church Road offers rich plum cakes, chocolate gift boxes, walnut and sponge cakes. The plum cakes are priced from Rs.236 for half a kilo.
The gift boxes are priced from Rs.250 onwards. Orders undertaken.
Oliver Road, Mylapore – 2464 1718, 2467 1719. Mada Church Road, San Thome – 2461 4799 / 88.
Amma Nana located at the end of TTK Road sells turkeys for Christmas. You can buy them a few day before too.
We normally sell the whole bird but if someone wants it in kilos we can also get that done, says a staff here.
Apart from this they also have rich plum cakes, chocolates, cold storage items and decorative items.  Call: 2433 7812.
Savera Hotel is having a month long Christmas celebration. A customised menu will be available at its restaurant till the end of the month.
Gift hampers and special parties can also be arranged here. Call: 2811 4700.
For those looking for a vegetarian meal Mahamudra Restaurant located at Luz Church Road is offering a Christmas buffet. This is available only for dinner on Dec.24 and for lunch and dinner on Dec.25.
We will be offering a typical south Indian meal with a touch of western flavour, says Meena, R&D Head.
On the menu will be apple cinnamon drink and fruit cake. For reservations call 4353 5555, 2499 1757.