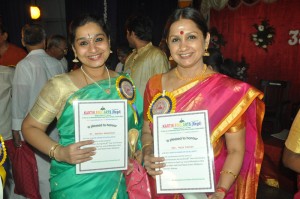 On a sticky Monday evening when Chennai Super Kings (CSK) was preparing for its IPL match against Pune Warriors at the Chepauk, Kartik Fine Arts sabha chose to honour many theatre and music artistes with awards to mark its 38th anniversary.
Narada Gana Sabha secretary N Krishnaswamy was the chief guest and he took time to talk about each artiste who was honoured today – from nadaswaram vidwan Seshampatti Sivalingam to violinist Kanyakumari and actors ARS and Kathadi Ramamurthy, he had something nice to say about all of them.
The applause was much for two of the lot – dancer teacher Dr Ambika Kameshwar for her work with special children and for stage art director Ranganna who was the first to design multi level stage sets and a revolving set on stage.
But it was also an evening to remember Kartik Rajagopal, now in his 90s and too frail to be at events and the founder of the sabha.
Both Krishnaswamy and actor ARS recalled his great encouragement of all drama artistes at Mylapore Fine Arts Club when Rajagopal was there, and then under the Kartik banner.
ARS said Rajagopal gave the stage to young artistes at a time when greats like the TKS Brothers and Sahasaranamam were the kings. "He once stayed with us at the launch of play ' Flight 172' which was a flop show, sat with us to edit the play and that did it – it was very successful."
Photo shows dancers/teachers Dr Ambika Kameshwar and Roja Kannan