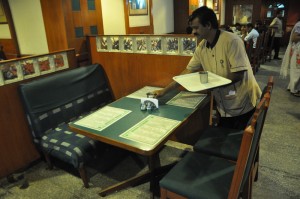 Legendary playback singer P B Srinivas who passed away recently had his own pad at Hotel Woodlands' restaurant on Dr. R K Salai.
The first set of seats on the right as you enter the restaurant and move to your left.
Every evening, from about 3 p.m. to 8 p.m. the singer, armed with books, pens and a shawl or his trademark turban would spend time here, scribbling, jotting, writing and meeting friends, fans and film makers.
He moved to this place after the Woodlands Drive-In restaurant at Gemini Circle closed down in that park – here, was a permanent figure.
Srinivas had his tiffin and enjoyed some of his favourite sweets.
One particular steward attended on him. He dropped by the day before he passed away but looked weak, said a waiter here.
Now, that seat that was reserved for a legend will only trigger memories in Woodlands regulars and the staff here.