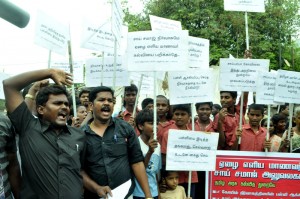 The management, a few teachers and a few students of Sai Vidyalaya Matric School in Mylapore staged a protest outside the school's gate on Venkatesa Agraharam asking the trustees of Sai Baba Temple that stands next door to rebuild rooms that had been demolished by the temple managers and to restore files and school records lost or damaged in this case.
This agitation was led by the Sai Vidyalayala School Protection Group.
The protest was held for an hour on May 30 morning. Later, Mylapore police arrested the agitators and took them away in vans and detained them in a hall near Mundagakanni Amman Temple.
Recently, the school managers had found a section of their hall/room demolished by men contracted by the temple, run by a Trust.
This school stands on the temple's land, leased out to it but temple managers say that they need more space for devotees and for annadhanam purpose.
But it is not clear yet if the temple gave notice to the school on the issue.