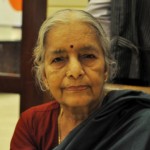 Parvathi Thambirajan, wife of late S. Thambirajan, passed away on Sunday, May 26, at her residence in Lady Desika Road, Mylapore.  She was 82.
Parvathi was a lover of music and a student of late D. K. Jayaraman and late P. S. Sreenivasa Rao. An extremely kind hearted and soft spoken person, "Parvathi mami "was a favourite among people of all ages in her area.
"A true Mylaporean, she was born and brought up in Mylapore, settled here after marriage, and had always expressed a desire to breathe her last here," says daughter Kanaka.
She is survived by her daughters Meenakshi  Shankar and Kanaka Cadambi  son-in-law Vinod Cadambi, and grandchildren Jayendra (Babhroo), Shailendra (Yajvee) and Aparna.
Contact mail ID – kanakac@gmail.com