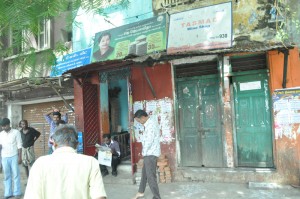 A civic-conscious Mylaporean has won a small battle today. He managed to get a liquor shop on the busy R K Mutt Road to be shut down because it affected people like him who had to get their rations of rice and sugar at the shop that was located in the same premises.
The man had made sent many petitions to TASMAC, the state agency that runs the liquor business but did not get a positive response.
So he took his case to the State Consumer Disputes Redressal Commission saying that his rights as a consumer were being violated and that the people who patronised the liquor shop affected consumers at the ration shop and that patrons here dirtied the place with leftover snacks and broken bottles.
The Commission asked TASMAC to shut down the shop which is located near the towering Sri Murugan store and opposite the temple tank.
On Friday morning, the TASMAC shop did not open for business.
Photo shows the closed liquor shop and the ration shop beside it.