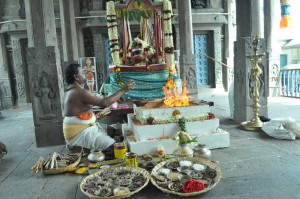 Prayers for rains are being said at Sri Kapaleeswarar Temple, Mylapore since 7.30 a.m. on Thursday. June 20 They will go on till about noon.
The prayers, held in the navaratri mantapam of the temple campus are being held in many temples across the state to pray for good rains and this initiative is from the Hindu Religious & Charitable Endowments department of the state.
Many parts of the state are facing a drought like situation just now. However, the state gets little rain from the south west monsoon that is active now. It gets its rain from the north east monsoon that is active between November and January.
The yagna and prayers at the Mylapore temple were started in the presence of the state minister for HR&CE affairs, the local MLA Rajalakshmi and other officials.
Balaji gurukkal led the yagna rituals with the odhuvars led by Sargurunathan and Vageesan ( they recited 'megha raaga kurinji' paan) , five nadaswaram and five tavil artistes ( led by Ganesan and SRGS Mohandass and party playing the amruthavarshini raga) adding the musical touch to the religious fervour.
The nandi was offered an abhishegam with 108 pots of water.
Venkatasubramaniya gurukkal did the abhishegam of Sri Kapaleeswarar in the sannidhi.
People visiting the temple though were oblivious to this yagna.