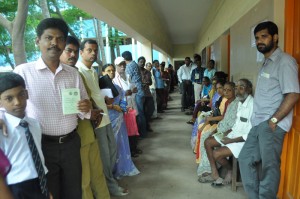 The Aadhaar Card process is moving ahead briskly for residents who live in Division 173. The biometrics centre located inside the campus of Raja Muthiah School off School View Road in R A Puram.
As word went around about the process, over 150 people queued up at the centre on Tuesday from 9 a.m. onwards.
But it was a slow and steady process since one biometrics room was closed and only two counters in the other room were functioning. A person in a queue may have to wait for as much as 1 hour to get the job done.
Many had their Census receipts which is good enough to get the biometrics done. Some brought their ration cards as proof but they were told this is not valid for the process so they had to go back home.
While the entire  family can go through the process, not all were in the queue since this is the working week. Staff here said that a family's members can get the process done in parts as long as they carry the valid document.
The KYR (Know Your Resident) form is a valid form but these forms have not yet been circulated in this division yet. Staff here said this will be done only on the weekend. Once you get the form and fill it up, you can also join the queue.
The counters are open on all days (including Sunday), 10 am to 5 pm. But the process takes time.
People said that if the officials can put up notices that inform people which streets/road/colonies are covered at this centre it will be very helpful. Officials had promised to do this but it has not been done.
And because many people are ignorant of the division under which their residences fall, the confusion and frustration increases.
The Aadhaar process will be held in other areas of Mylapore weeks later. Officials said they can do so only step by step.