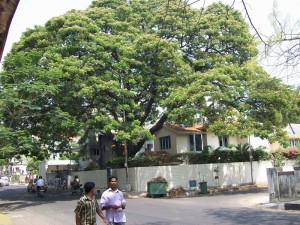 Residents of a Alwarpet colony are saddened by the death of a giant tree. This rain tree stood inside a private plot of an independent bungalow at the junction of C V Raman Road (west) and Sri Labdi Colony Street and was a riot of colour when it was in bloom through summer.
Recently, the house was demolished to make way for bigger real estate development and the giant tree was also chopped down.
Residents like Parama Sivasubramanian said they pleaded with the owners of the bungalow that was brought down to spare the tree. Obviously, it had no effect.
People say that even if such large old trees are located in private spaces the land owners must be restrained from cutting them down if it can be avoided.
Alwarpet was once a village of fields, scrubs and large avenue trees. A few like those on TTK Road ( south side – Park Sheraton hotel area) have survived. But the many which stood inside private plots have gone, sacrificed for the sake of highrise development.
The photo featured here was taken some time ago by Raji Muthukrishnan, a C V Raman Road longtime resident. She featured it in her blog – www.rajirules.blogspot.com