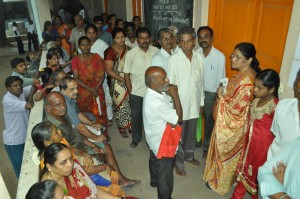 More and more people are queuing up to get their biometrics done for the purpose of getting the Aadhaar Card.
As a result, the officials managing this process have decided to extend the process which is now on in R. A. Puram but four weeks.
A senior Chennai Corporation officer involved in the process told Mylapore Times that the counters would have to work through August to cover the community in the R. A. Puram division where the process was begun late June.
The officer said that the residents who live in the 'old' Division 149 made up a large number and covering them would need lots of time.
These past weeks, lots of people have been queuing up at Raja Muthiah School off School View Road in R A Puram where the biometrics is on.
Obviously, word of mouth buzz is getting people to this centre.
Every morning, over 100 people form a queue and this has been happening this past week.
Due to the rush, staff at the centre have begun  to limit the entries. So people who come in later in the morning are politely told to come back another day.
Thankfully, there are eight counters in two rooms inside this school campus and they work long hours. So though the process takes time it keeps rolling.
While the entire  family can go through the process at one go, not all manage to do it since their kids are in school and many adults go to work
Meanwhile, Mylaporeans who reside in other areas will have to wait patiently till the biometrics camp moves elsewhere.
The KYR (Know Your Resident) form is a valid form to get the biometrics done but these forms are yet to be seen with people who need them.
Officials claimed forms are being circulated in this division but evidence does not indicate to this activity. Once you get the form and fill it up, you can also join the queue.
Officials said that people can now also pick up a KYR form from the Corporation's zone office located alongside the Adyar flyover during working hours.