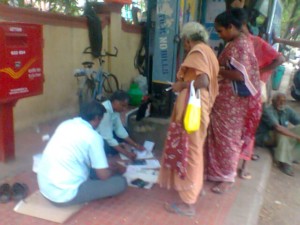 Aavin milk card holders who reside in the Vivekananda College area were shocked at the a development this morning.
When the card holders queued up this morning at the Sivaswami Salai- Vivekananda College Junction to renew their cards they were in for a shock.
The person issuing the cards was seen  sitting on the pavement as the shack where
this was being  issued previously for the last many years had been pulled down ( the one next to the Aavin milk booth)
Working from that pavement floor picking up old cards from the card holders
and issuing new cards was obviously a painful job but he carried on through the morning.
Aavin authorities will need to take notice of this development and address it.
New cards are issued between 7th and 10th of every month.
_ Report and photo by S. Prabhu
–