The pitter-patter of light rain and the cloudy skies did not encourage communities in the Mylapore area to hold elaborate events for Independence Day on August 15.
Though the day began with a steady rain, communities who had committed to their local programmes, went ahead with them.
Some though who had planned bigger events held them over for the weekend. Here are a few that we at Mylapore Times checked out as we dodged the rain and hopped from one area to another.
The community of Kalyan Nagar Residents Association in Mandavelipakkam held their event in the community hall campus. The national flag was hoisted at 8.15 a.m. by Association president Dr S M Srinivasan About 20 people participated, mostly committee members. (1st photo)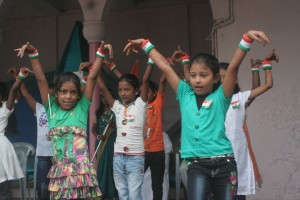 The students who study at the school managed by Our Lady of Guidance Church in R. A. Puram celebrated Independence Day at the church campus at 7 a.m. The tricolour was hoisted first and a short cultural programme followed and sweets were distributed. The guests were Bro. Arulappan and businessman Rajan. The rain kept away people who had attended Holy Mass at the church from staying on. ( 2nd photo)
A string of cultural events marked the celebrations at P. S. Matric Hr. Secondary School. Included in this was a session of singing Tamil patriotic songs and a play-act on 'Harichandra'. Senior students and teachers took part.
Aakif Ahamed, R. Kishore and M. Naresh, students of St. John's Matric He Secondary School who belong to the NCC group posed for a picture after the I-Day celebrations at the campus in Mandavelipakkam. Most students ran home soon after the event. One couldn't blame them.
Sir Sivaswami Kalalaya Hr. Secondary Schoool keeps a tradition at its Independence Day celebration. It gives certificates to students who passed Std.11 and had cent percent attendance. This year, the guest Vatsala Narayanaswamy of the school management made the presentation in the presence of school principal G. Pandian.
Senior students and teachers took part in the short event.
Children of families who reside at Keshav Dugar Apartments in Kesavaperumalpuram East Avenue in R A Puram all got to hold small tricolours at the event held in that campus.
In another part of this area, D. Harikrishnan, a retired BSNL employee said he has been celebrating Independence Day in Narayanaswami Gardens located off Greenways Road for over 30 years. He led the flag-hoisting event on August 15 morning. He said that he arranged donations from local residents and uses the money to give notebooks, stationery and sweets to the local children.
The team at the BSNL Telephones Exchange of R K Nagar held a simple flag-hoisting event at its premises on R. K. Mutt Road, Mandaveli. Divisional Engineer Sivasubramaniam led the staff at this event. The team had decorated the campus with puli kolams and flowers and this was a great visual treat to the staff and some guests.
—