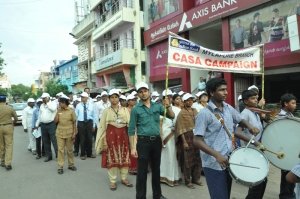 Indian Bank's branch in Mylapore is proud of its milestone – it celebrated 100 years of its business here two years ago. It continues to host special campaigns and meets to maintain its profile with the large base of clients who are mostly from Mylapore.
Last weekend, its staff took out a procession through the mada veedhis from its office on North Mada Street to make people aware of the bank's facilities.
Earlier, it had hosted the annual Customers' Meet and a health check camp for its clients.