Two nuns from the neighbourhood have been decorated with the Best Teacher award by the state government. They are Sister Irudhaya Mary and Sister Gnanaselvam.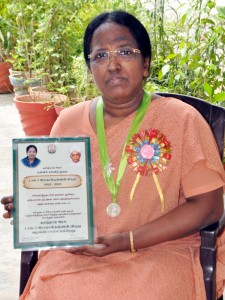 Sister Irudhaya Mary, Headmistress of St. Lazarus Middle School in R. A. Puram is one of the recipients of the Tamil Nadu state Best Teacher award. She received the award at the state event held in the city on Septenber 5 evening.
A teacher now for 28 years, this nun who belongs to the congregation of the Sisters of Bon Secours says that her big challenge at her current assignment has been to ensure that students who were shifted out of the city post-tsunami and now live in the Kannagi Nagar suburb continue to attend classes.
"Our school has hired vans to transport these kids, some 300 of them so that they do not drop out of school since they feel secure studying here despite the displacement, " says the nun who hails from Puducherry and took her first vows in 1977 when she became a nun.
Sister Mary was recognized during her stint in Bangalore when the school in Ashok Nagar there was chosen for the Best School award and she got the Best Teacher award.
"Managing the kids who were first generation learners and who came from very poor and broken families was a challenge there, " says the nun. " Counselling really helped."
Sr Mary became Headmistress in 1992 and this is her second stint at St Lazarus School, Madha Church Road, Mandavelipakkam.
(This is the school whose projects are funded by the Mylapore Times Charitable Trust).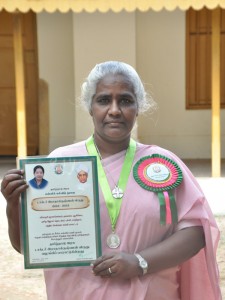 Sister Gnanaselvam has been Headmistress for 23 years at various schools and in charge now for 10 years of St. Joseph's Primary School located in San Thome.
She has been a teacher for 30 years and is a member of the congregation of FMM nuns.
The school caters to the lower income families of this area and stands in the campus of St. Raphael's and Rosary Matric.