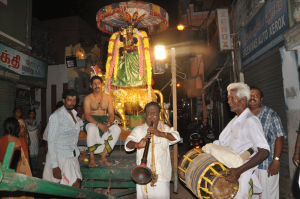 The celebration of Vinayaka Chathurthi was dominant inside the colonies of the Mylapore neighborhood.
While they were colourful and grand at the temples dedicated to the god which have become prominent over the years, they were simple at the smaller temples.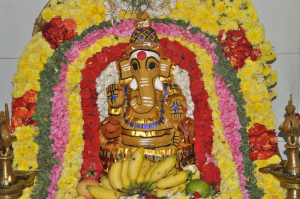 The temple off Warren Road ( Bhaktavatsalam Road) located in a private space has always celebrated the festival grandly. Carnatic music concerts held in the evening lend a musical touch to the religious events here.
Over the years, the celebration at the Navashakthi Vinyaka Temple in Luz have become bigger and grander. Elaborate decorations and concerts in the evenings mark the celebration here.
On Sept.11 evening, there was even an oonjal utsavam, said to be held to allow the god to relax after a weekend of celebration.
Photos featured here are of the procession taken out by the V P Koil Street community and of the god covered with sandal paste at a temple on Musiri Subramaniam Road.