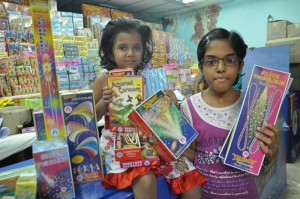 You cannot call it a shopping fever. There is nothing of the kind as Mylaporeans prepare to celebrate the festival of Deepavali.
The rains may have kept away but the shopping buzz was evident only in patches and a few places though it got a tad frenetic Thursday onwards.
Stores on TTK Road and C P Ramaswamy Road in Alwarpet, both shopping hubs were lit up. Well-known boutique Shilpi had for the second year, a late evening to midnight sale, allowing its clients time and space to shop in peace.
R. K. Mutt Road, badly lit by street lamps got its extra life from the multi-coloured illumination across the shops opposite Sri Kapali Temple tank.
The big rush was into Sri Murugan Stores – a place which offers clothes to adults and children with lots of variety. Inside, the floors were packed with shoppers.
Here and there were pandals created in regular stores selling fire crackers.
On North Mada Street, a few jewellery stores – NAC, Chola and Sukra – beckoned shoppers. Grand Sweets & Snacks on the same road displayed a variety of sweets and savouries and had a busy evening. As was the Suriya Sweets shop on South Mada Street.
The nattu marundhu shops on Bazaar Road were busy rolling out the lehiyam, charging Rs.50 for a pack.
The owner of Sri Murugan Store here said that his clients would double on the eve of the festival.