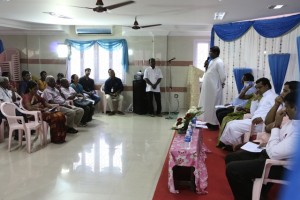 One more milestone in its life – the St Vincent de Paul Society unit at the San Thome Cathedral celebrated its 83rd Annual Day at the cathedral's community hall here on Sunday morning after the 9.45 a.m. Holy Mass, highlighting the service it has provided to the less privileged and posting the plans for the future.
The parish priest, Fr. Mathias his assistant and a few other guests were on stage. A few people like doctors and health specialists who offer their service at the clinic that this group runs on campus were honored.
One member said that organ donation is gaining acceptance among people the Society members talk to and they are spreading the word further.
One priest present at the formal event requested this unit to devote some time to the prison ministry – meeting people in jail and counseling them.
The unit depends on all kinds of donations to carry out its work. Its health check and eye screening camps are popular.
Lunch was served to the guests, donors and well wishers.