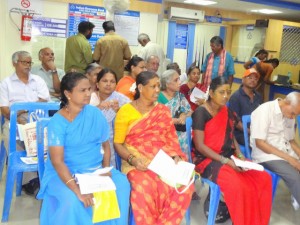 About 30 people attended the ayurvedic camp organised by the West R. A. Puram Residents Association (RAPRA) on Oct 12 . The guest speaker Dr. V. R. Seshadri, an ayurvedic consultant talked about the advantages of ayurvedic medicines. He also talked about how diseases like cancer and AIDS can be better managed with ayurveda as a supportive therapy.
A senior resident couple Govindarajan and his wife Rukmini Govindarajan were honoured by RAPRA on this day with a citation.
At the diabetes camp held on Oct 14, 88 patients were screened for diabetes. Counselling and a medical check up by doctors were also conducted for the patients.