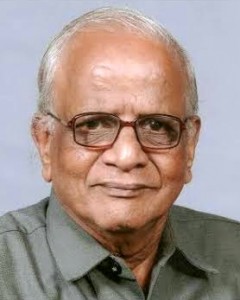 Founder and Hindi teacher at Mylai Hindi Vidyalaya, Dr. S. Subrahmaniam, also known by his pen name 'Vishnupriya' passed away on September 29 at the age of 81 years.
He spent his early years at Bombay and later joined Southern Railways at Madras. He completed his M. A. in Hindi as well as in English. A resident of Arundale street and Karneswaran Koil Street then, he joined Babuji Bala Mandir as a Hindi teacher.
In 1959, he started the Mylai Hindi Vidyalaya in Mylapore and conducted classes based on the Dakshin Bharath Hindi Prachar Sabha curriculum. His classes were free of charge and conducted all seven days of the week for nearly 55 years.
He later moved his residence out of Mylapore.
He was a linguist and an author of more than 80 books written in Hindi, English and Tamil. His  last book 'The Three Piece Suit' was dedicated to R. K. Alwar (the secondhand bookseller at Luz Corner), who regularly supplied books to him. He was an executive committee member of Hindi Prachar Sabha. He has been an important part of Hindi theatre and conducted many workshops and taught journalism and received numerous awards.
He is survived by his wife Kamakshi, also a Hindi teacher, and his son Dr. Bhavani Shankar. Ph: 9444130708.